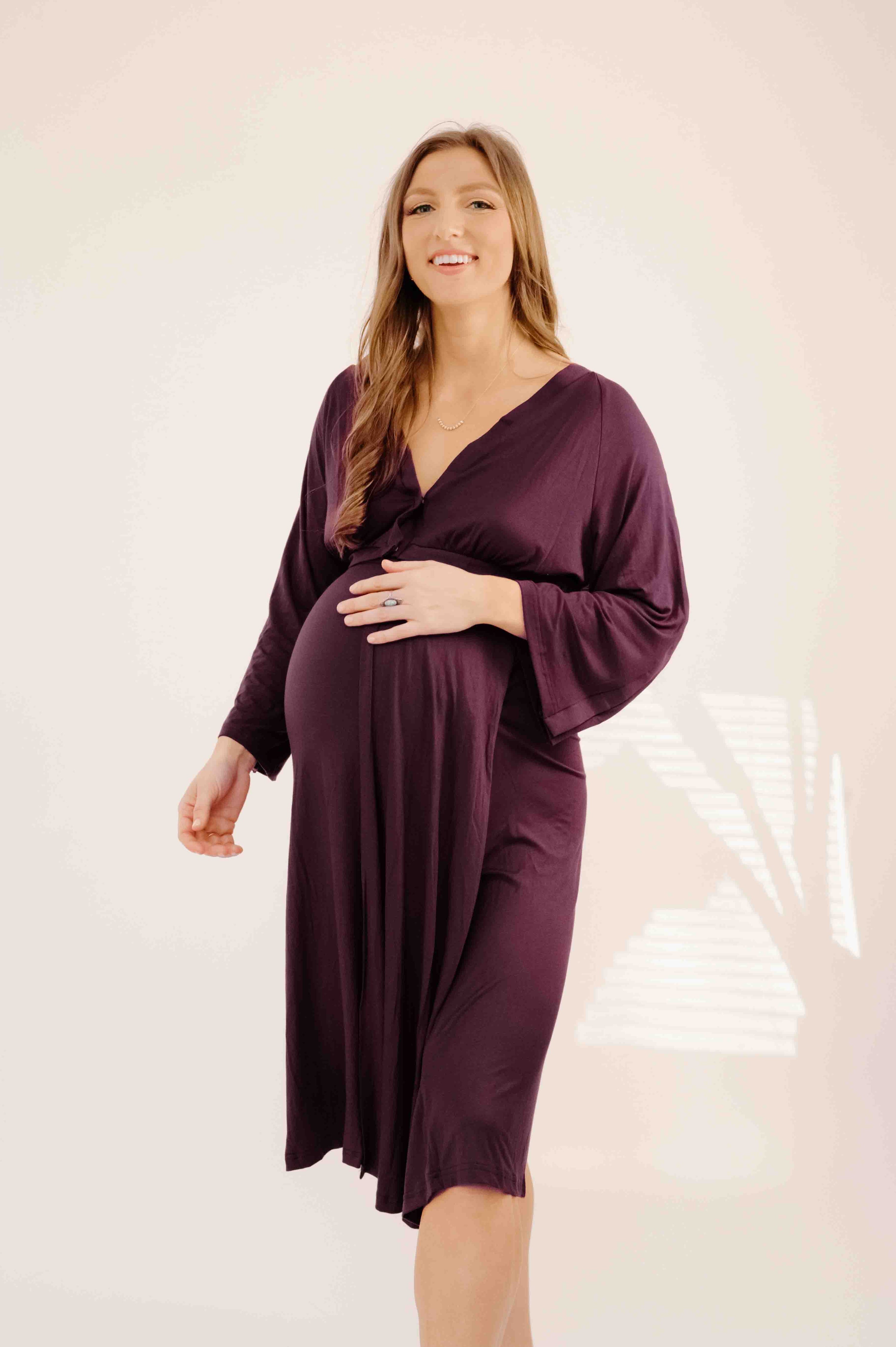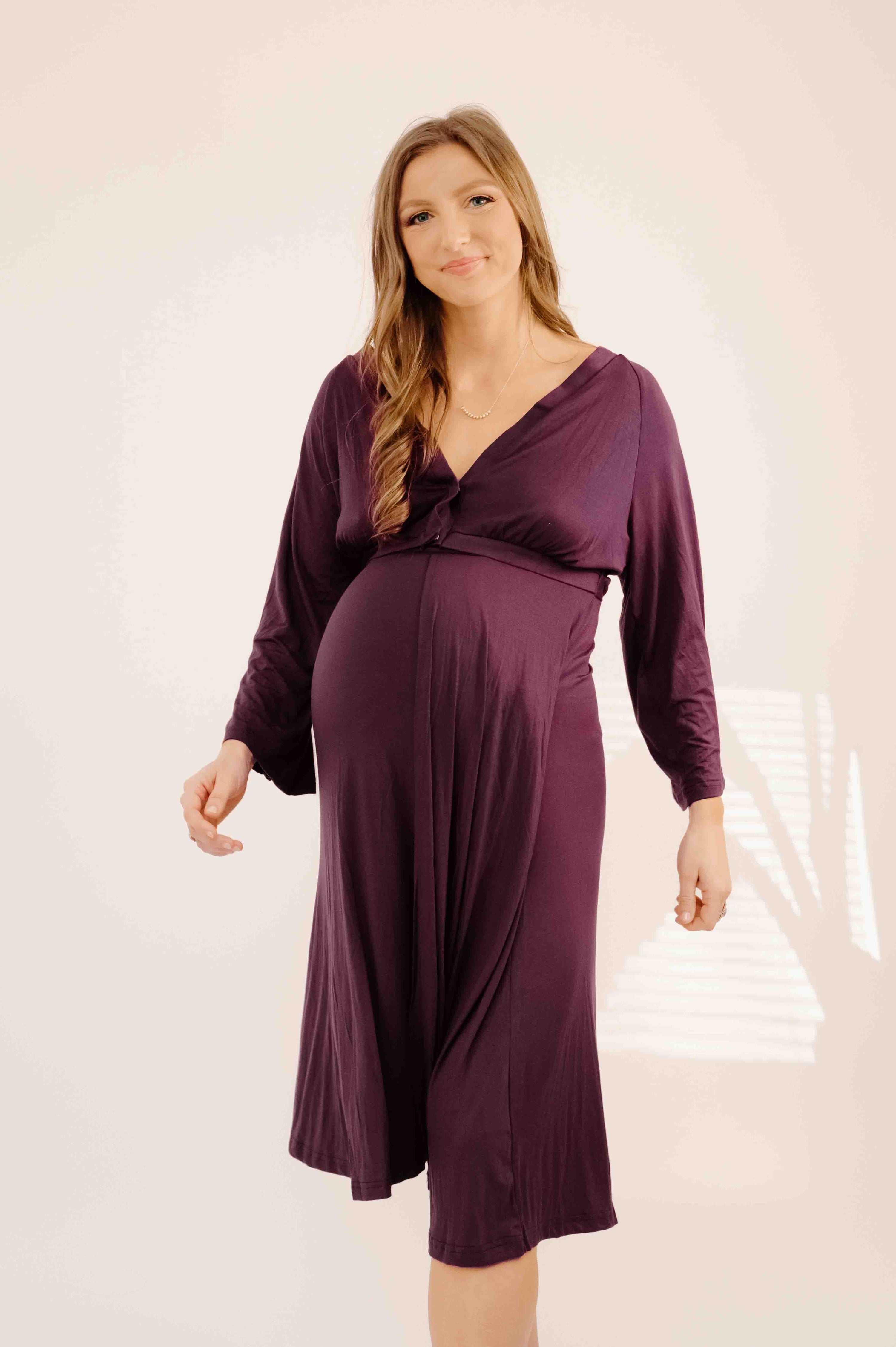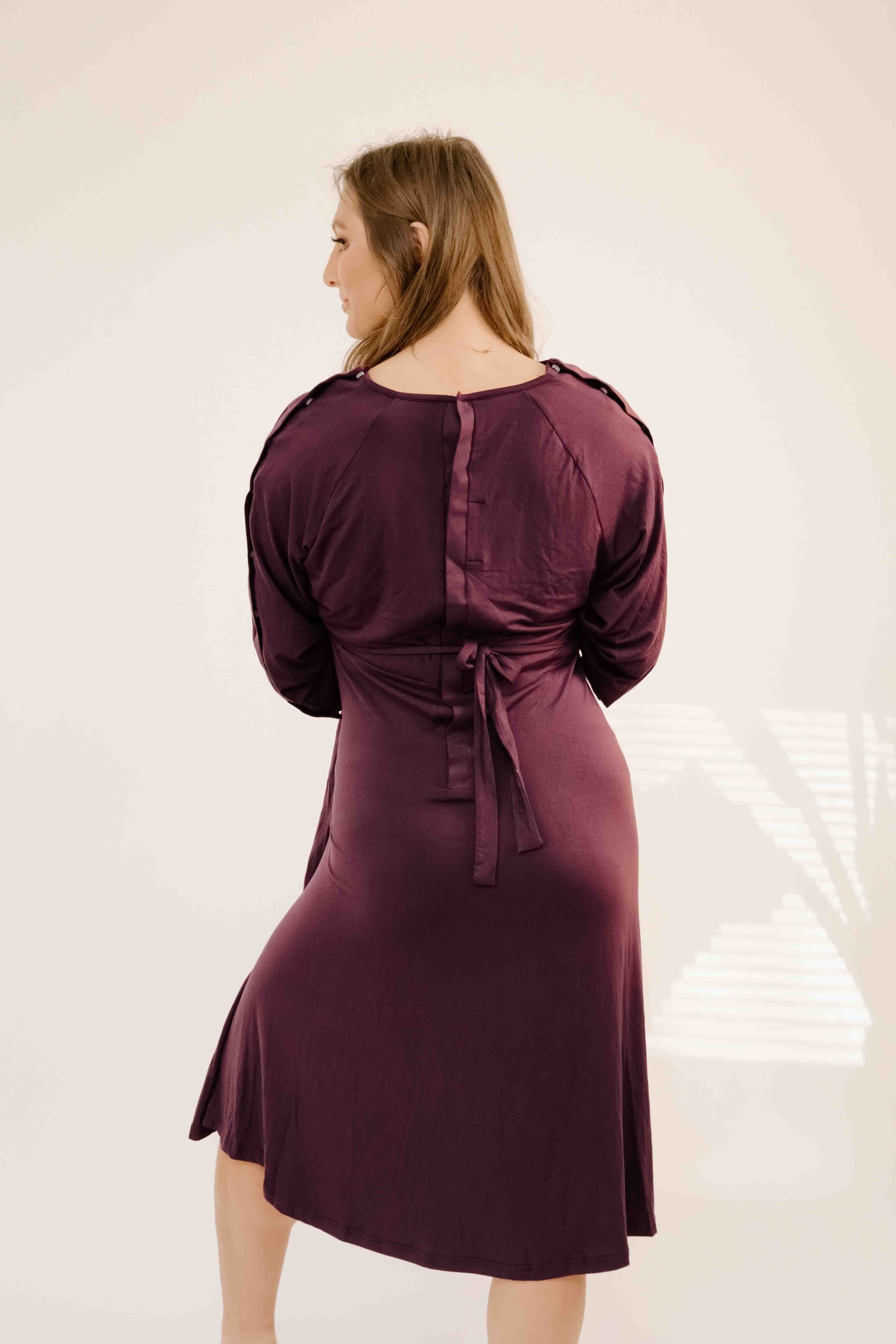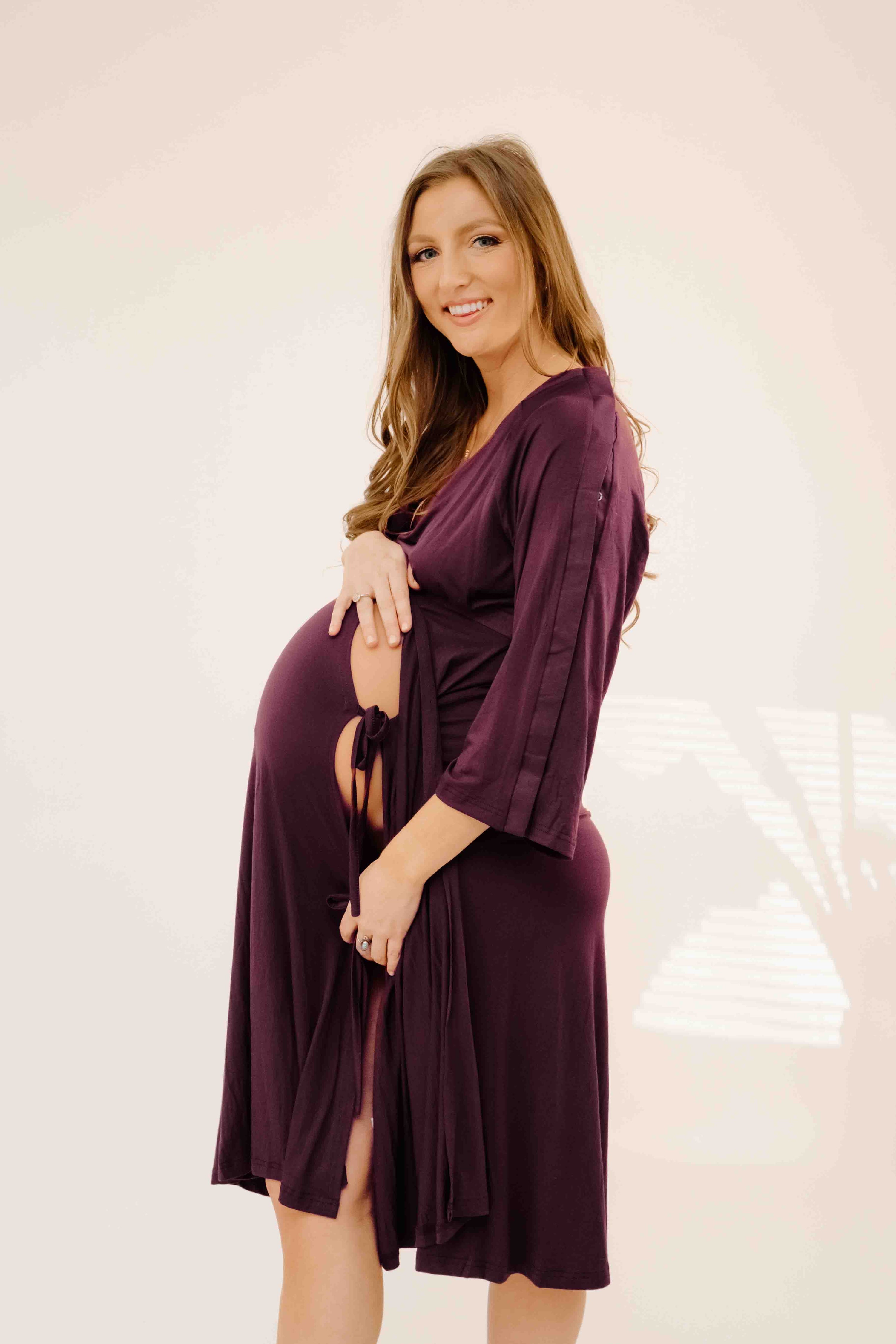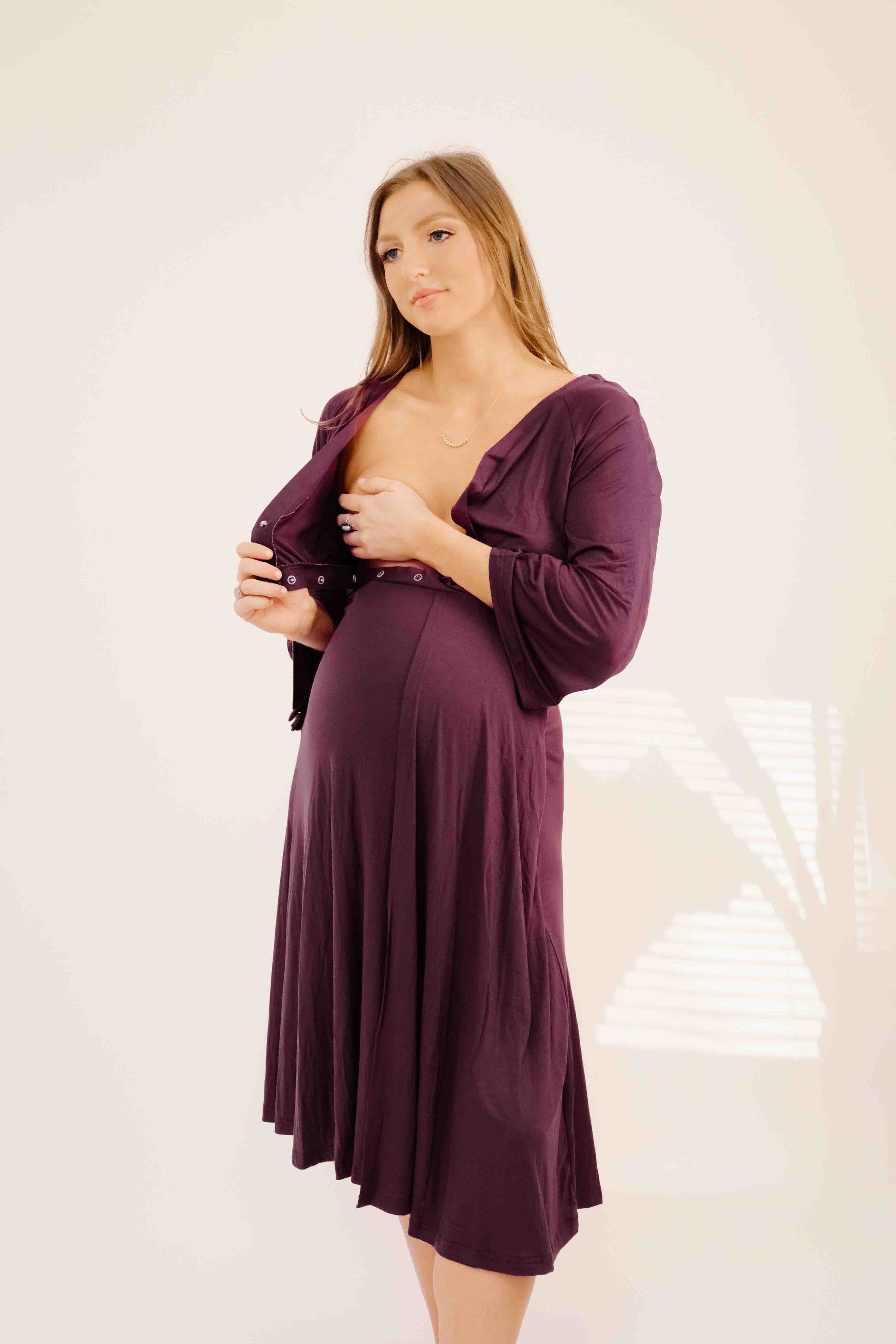 Lifted Labor Co
Amelia Labor & Postpartum Gown in Plum
Sale price
$69.99
Regular price
Our Amelia gown is our more modest and slightly more accessible alternative to our best selling Lila gown. All of our labor and postpartum gowns are designed with actual labor in mind by a Labor and Delivery Nurse and Doula. These gowns are intended to provide accessibility to your medical team, while still being stylish and comfortable for you.
Some features of this gown include:
• High-quality, butter smooth, stretch material - Did you know, for some women, sensations are experienced differently in labor? A texture that may feel fine normally can become irritating and distracting during labor. The material used for this gown has been hand selected to be soft enough to keep you comfortable throughout.
• Unsnappable Back - Our Amelia gown unsnaps down the back to provide accessibility for epidural placement or massage while still maintaining privacy. 
• Opens at the belly - Most labor gowns you'll find don't open in front at all, meaning the cords from your fetal monitors will hang down in front of your legs which can be annoying and distracting. Our labor gowns open down the middle of your belly so you can string the cords up with your portable monitoring system and keep them out of the way and out from under your feet.
Unsnappable Sleeves - Our Amelia gown is our only gown that offers unsnappable sleeves. This is helpful for anyone who plans to have an IV placed while in labor. Most IV's are not actively being used while in labor but instead placed out of an abundance of caution. However, if you do have fluids or medication running through an IV, the sleeves on our Amelia gown unsnap so you don't have to pause your IV infusion to remove the gown. Don't like the look of unsnappable sleeves? Check out our original Lila gown!
• Two inside ties - Did you know one of the most common complaints from women after they have given birth is that their privacy was invaded? Most labor gowns that offer a similar level of accessibility are skimpy and revealing. Our gowns are made with things like 3/4 sleeves, and two inside ties to keep your gown closed while not sacrificing accessibility.
• Opens at the chest - The front of this gown opens completely at the chest for skin to skin immediately after birth, and because sometimes that happens quickly or unexpectedly there are no knots to untie or changes of position required to give complete and immediate access to your chest for skin to skin and breastfeeding.
• Matching baby hat and swaddle - How can you miss the opportunity to match with your baby? Our Lila gown can be ordered solo or as a set. Simply add a matching swaddle to your cart and use code GOWNSET10 at checkout to get a matching swaddle for  50% off the original price!
Found us from Tik Tok? Yes we are the original viral labor gown! Feel free to show off your gown and tag @mrs.unitedstates! Images are property of Lila Co.


This is a beautiful color, but it is not very comfortable. The snaps are extremely hard to open (I felt as if I would break them trying to unbutton them).
Beautiful color and the ports of access are great for a delivery gown! I'm sure I'll wear this post delivery while recovering the first month as well.
It is sooo soft and I think will be as functional as advertised for labor and delivery! I ordered the standard size because I am a size 12-14 regularly but it ended up being a little more snug than I was hoping for, though I believe it will work fine for laboring and should fit great postpartum! I do also wish there was another snap on the neckline because the way the waistband sits on my bump pushes the neckline in a funny way that opens the chest and I feel more exposed than I like [yes, I know there is no real privacy in labor, but I just feel more comfortable covered up;) ]. So even if I sized up to keep it from being snug around my legs and booty, I feel like it would have ended up being way too big on my chest. But even if I end up not wearing it for delivery, it will be amazing for postpartum when I don't feel like actually being dressed but want to stay comfortable and accessible for breastfeeding!!
This gown was perfect during labor. Super comfy and accessible very easy. Highly recommend!