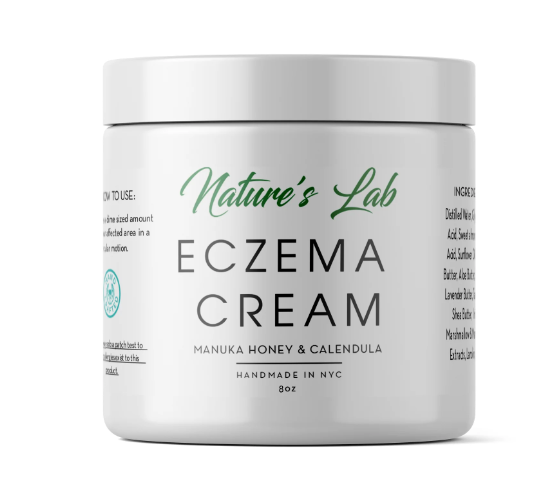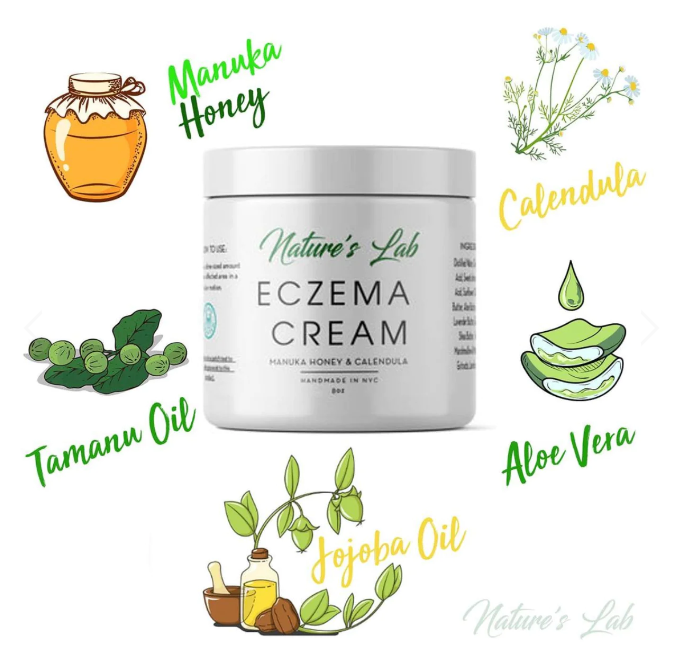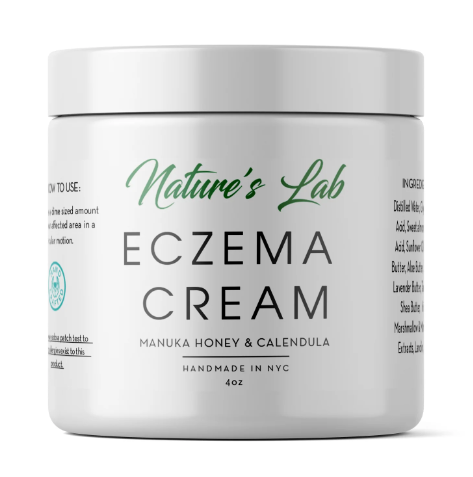 Lila
Nature's Lab Eczema Cream- Manuka Honey & Calendula 8oz
Sale price
$43.99
Regular price
Eczema Cream - Manuka Honey & Calendula
Your favorite Eczema Cream is back with an improved formula! Enriched with some of the best ingredients for soothing and repairing skin - the rare manuka honey, calendula and aloe vera - whipped into a rich cream texture, it absorbs quickly into the skin.
A sophisticated blend designed to seal in moisture, help heal and protect dry, damaged skin.
Manuka honey

 

is a type of honey native to New Zealand, that has been used since ancient times for healing wounds and burns. It has been recognized for its unmatched healing properties, and as the most active honey on earth. A unique powerful blend of vitamins, minerals and amino acids. In 2007, it was approved by the US FDA as an option for wound treatment* (in the form of wound dressing). Along with

 Hydrogen Peroxide

 

that gives regular honey its antibiotic quality, Manuka honey contains more of another important antibacterial component - methylglyoxal (MG), to which we attribute its stronger antibiotic properties.
Calendula,

 

known for its traditional uses in treating minor skin irritations, enhances the cream's skin-soothing properties and its ability to hydrate.
Aloe Vera

 

has a natural anti-inflammatory effect. It helps soothe the skin and restore skin moisture. Aloe Vera naturally contains lignin to help other ingredients absorb to the skin more easily.
Shea Butter

 

is rich in fats that make it an excellent emollient and skin moisturizing agent. It contains vitamins A and E that soothe dry skin and improve the skin's elasticity.
Jojoba Oil

 

seals the skin with a protective barrier to keep it from losing moisture. It possesses antimicrobial and antifungal properties, and contains natural forms of

 

vitamin E

 

(an antioxidant). It may help promote collagen synthesis.
Tamanu Oil

 

is native to Asia and Polynesia, and is known as "green gold". It can help promote healthy skin cell growth. Gentle enough and extremely nourishing for the skin, Tamanu oil has soothing and softening effects. It may help with inflammatory skin conditions, to speed up the healing process, reduce scars. It is also an excellent skin moisturizer.
Proudly handmade in NYC, USA.

Ingredients:
Ingredients
 Aloe Barbadensis Leaf Juice, Deionized Water, Sunflower Oil, Glyceryl Stearate, Glycerin (Kosher, Vegetable), Ethylhexyl Palmitate, Cetyl Alcohol, Coconut Oil, Isopropyl Palminate, Cocoa Butter, Beeswax, Potassium Stearate, Jojoba Oil, Manuka Honey, Shea Butter, Tamanu Oil, Macadamia Nut Oil, Kukui Nut Oil, Avocado Oil, Borage Oil, Flax Seed Oil, Evening Primrose Oil, Rosehip Oil, Vitamin B5, Vitamin E, Green Tea, Noni Extract, Passionflower, Calendula, Chamomile Extract, Lavender Extract, Arnica Montana Extract Gotu Kola, Horsetail Extract, Wild Geranium Extract, Dandelion, Vanilla Bean Extract, Stearic Acid, Xanthan Gum, Sodium Carbomer, Phenoxyethanol, Ethylhexylglycerin
There are NO REFUNDS / NO EXCHANGES on these products
This product CANNOT be shipped INTERNATIONALLY